Staff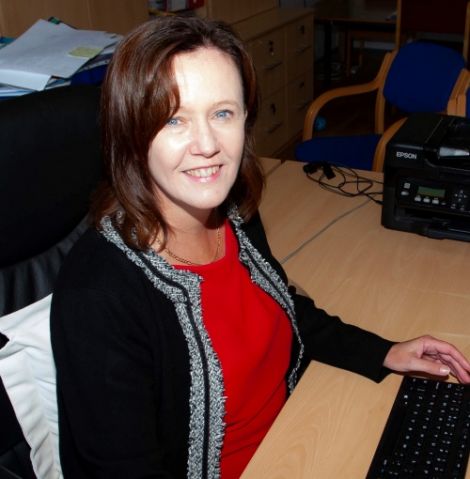 Principal - Mrs Eilis Mc Guinness
Welcome to our website!
St. Anne's Primary School first opened its doors on 1st May 1972 and has been successfully educating the children of Derry since that day. Principal Eilis Mc Guinness, a member of staff for over 20 years, believes the success of the school is down to one simple fact, the strong partnership between home and school.
At St. Anne's Primary School, we have three core values, respect, appreciating the uniqueness of each individual and striving for continuous improvement. Our school motto is "Love to learn, learn to love" and is at the heart of all that we do. The staff work to ensure all children reach their potential and develop their talents and skills to the full.
We work in partnership with parents and the community to provide a nurturing, caring environment focused on developing children's self-esteem, individuality and confidence. We use the latest technological resources to enhance teaching and learning experiences including interactive whiteboards, ipads and Apple TV. Please contact us if you have any questions or to arrange a school visit.
Vice Principal- Mrs Patricia Mc Nutt
Acting Vice Principal and Learning Support Coordinator for academic year 2022- 2023
Mrs Jennifer Morrison
Speech and Language Unit: Mrs Deborah Kelly, Miss Niamh Grant, Mrs Carmel Mc Cauley
Primary 1: Mrs Melissa Organ, Mrs Michaela Doherty
Primary 2: Mrs Nicola Soal, Mrs Douglas
Primary 3: Mrs Ciara Mc Daid, Mrs Roisin Given
Primary 4: Mrs Joan Mc Lain and Mrs Johanne Ennis
Primary 5: Miss Sheila McLaughlin, Mr Niall Brogan
Primary 6: Mrs Pauline Duffy and Mrs Aine Walsh
Primary 7: Mrs Suzanne McRory, Mrs Emma Meehan and Mrs Jennifer Morrison
Auxiliary Staff
Office Staff: Mrs Donna O'Donnell, Mrs Leona Coyle
Building Supervisor: Mr Darren Edgar
Classroom Assistants
Foundation Stage: Primary 1 & 2: Miss Roisin Deehan, Mrs Christine McLaughlin & Mrs Orla Gallagher
Speech & Language Unit - Mrs Caoimhe Orr, Miss Holly Yates, Miss Lauren Wilson
Special Educational Needs Assistants.
Primary 1- Miss Emily Gavigan
Primary 2 - Mrs Sarah Coyle, Mrs Cathy Duffy
Primary 3 - Miss Emily Gavigon, Mrs Rachel Shiels
Primary 4 - Mrs Katrina Martin, Miss Catherine Barr
Primary 5 - Ms Sarah Larmour, Mrs Danielle Wilson, Miss Deirdre Doherty
Primary 6 - Mrs Karen O Brien, Mrs Kerry Mullan
Primary 7 - Mrs Elaine Keenan
Cleaning Staff
Mrs Michelle Gillen
Mr Paul Doherty
Mr Darren Edgar
Mr Thomas Mc Gill
Mrs Emma Burke
Mrs Kerry O Kane
Mrs Marie Nixon
Mrs Sandra Doyle
Supervisory Assistants
Mrs Emma Burke
Mrs Michelle Gill
Mrs Kerry O Kane
Mrs Carol Mc Laughlin
Mrs Sharon Doherty
Mrs Stella Doherty
Mrs Annette Wade
Lollipop Lady
Mrs Marie Carr
Saint Anne's Primary School, 32 Upper Nassau Street, Derry, BT48 0EZ | Phone: 028 7126 3046